James B. Carrington
Jump to navigation
Jump to search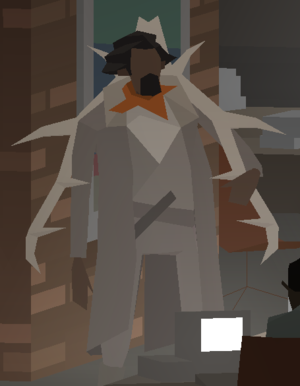 James Beckwourth Carrington, usually referred to as just Carrington, is a friend of Joseph and Lula from their college days. He is the director of the plays The Entertainment and Death Of The Hired Man. Conway has the chance to meet him at Equus Oils in Act I.
A wrongle of Carrington is viewable at http://kentuckyroutezero.com/phonebooth.wrongle.
Personality
[
edit
]
Carrington is an enthusiastic and verbose character with an impressive knowledge of and passion for dramatic works.
Little is known about Carrington's life.
Throughout the story, Carrington searches for an outdoor venue to perform his play, an experimental adaptation of "The Death of the Hired Man" by Robert Frost. At Equus Oils in Act I, he asks Conway to find a venue for him: "Somewhere outdoors. Somewhere intimate. Somewhere tragic."
In the beginning of Act II, Carrington talks with Lula at the Bureau and quotes the French dramatist Antonin Artaud. He appears later at the self-storage facility, asking Conway for ideas as to a venue.
In Act III, he will meet the group at the location suggested for the play in the previous act – either at Equus Oils, Elkhorn Mine, or the storage facility. In talking with Shannon, he references plays, such as Oresteia, Faust, The Iceman Cometh, and The Glass Menagerie.
He claims drama is only his second love; his true calling is pseudoscience.
Inspiration
[
edit
]
The character of Carrington was inspired by two historical figures: James Pierson Beckwourth, an African American mountain man from the mid-19th century, and Whately Carington, an English parapsychologist.