WEVP-TV
Jump to navigation
Jump to search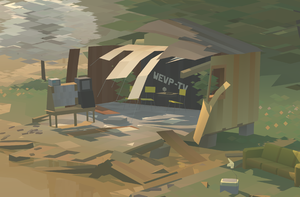 WEVP-TV is a community-run television station featured in Un Pueblo De Nada.
Its website is located at http://wevp.tv/, with an archive of videos available at http://wevp.tv/vdb/.
Website
[
edit
]
History
[
edit
]
Spoiler warning!
This section contains information on in-game secrets or ending details.
WEVP-TV was started by the Consolidated Power Company, who initially used it to broadcast security footage of the woods. They later broadcasted company training videos and propaganda.
Some time after the Out-of-Towner's death, the station was fully handed over to the community, funded by a court-ordered grant from Consolidated. WEVP's studio included the set for The Evening Broadcast, a projector setup for Elmo's weather report, the Video Data Bank, a few cameras, a control board, a Sandin Image Processor, a cork board, a chalkboard, a couch, and a coffee table.
By Rita's estimation, the studio had eight thousand, one hundred and ninety-two broadcasts. Its final broadcast was Weaver's hijacked message to Shannon.
The station is destroyed shortly after the events of Un Pueblo de Nada. On the morning of Act V, its remains can be found next door to 5 Dogwood Drive. More than half the roof has collapsed in, destroying the Video Data Bank. Emily picks through its remains to salvage surviving video tapes and equipment.
Programs
[
edit
]
Night Noise
The Evening Broadcast
The Swap Show
"Aunt Connie" public service announcements
Consolidated Power Co. security footage
Consolidated Power Co. training videos
Morning broadcast
An exercise show
A bird show
A "naked banjo guy"
Employees, volunteers & program guests
[
edit
]
Gallery
[
edit
]